Mr Dugald MacAngus

Catering Manager and original management team member 1966




In our quest for information about the old Aviemore Centre, we have been extremely
fortunate to find a lovely gentleman in Balintore, Scotland named Dugald MacAngus.
A gentleman named Archie saw our request for information and passed Dugald's phone
number on to us. We contacted him and he had so much to tell us.
He was the catering manager at the Centre from 1966 to 1971 when he left to take up
a position in a hotel near Glasgow.
He has regularly been sending us various photos and archive information, all of which is
invaluable for our website. He has sent us a recording of the opening ceremony at the
Centre in 1966, as well as a recording of a radio programme "Down your Way" from
1968 about the Aviemore Centre. He is a real gem of find and we are very lucky to have
been put in touch with him. We look forward to many more stories that we're sure
will be forthcoming.
................................................................................................................................................

Letter from Dugald MacAngus 20th April 2007

Everyone who knows me, would of course, long ago have come to the conclusion that
I must have lost my marbles!As I stood on the platform at Aviemore railway station,
having just arrived on the overnight sleeper from London, I was very much aware that
on this early morning in September 1966, Autumn was coming to an end, the Winter
would soon be approaching and bringing with it all of the blizzard and cold winds which
were common place in this part of the Highlands. I had plenty of memories of the area
because my mother's family came from Newtonmore, just a few miles down the road.

The local population I know had a deep respect for tradition and the old ways.
I did wonder how they would handle the avalanche of change which was about to
swallow them up when the Centre would be up and running.

The many and various changes which loomed ahead were inevitable.
Thousands of visitors every day, a swimming pool, ice rink, cinema, restaurants,
bars, hotels and major conferences from all over Europe.

I'm sure many of the locals, as well as myself, sometimes felt that the whole concept
was mind-blowing.

However, that early morning in September, was, I remember, a most beautiful sight.
A sleepy haze hung over the area and looking across at the marvellous Cairngorm Mountains
I saw wood smoke from a cottage in the pine forest just drifting gently up into the sky.

Certainly, the contrast from my office in central London where I was a catering manager
at Waterloo Station just could not have been more different.

As I made my way up the gentle slope outside the station leading to the Centre, I wasn't
prepared for the major shock that confronted me. There were so many unfinished buildings,
swarms of workmen pushing wheelbarrows along planks trying to avoid what appeared to
be mountains of mud. As I manoeuvred around with some difficulty into the areas for which
I would eventually be responsible, I was reassured by key workers who did their best to
instil me with confidence that all would be ready for the opening date of the 14th December 1966.

With all of this going on, my family Inge, (my wife) and my two children, Sonya and Sandy
arrived from our house in Reading, Berkshire. We moved into our new bungalow, which in
those days was on the outskirts of Aviemore, but is now swallowed up amongst massive
new developments.

While we were settling in, we were trying hard to maintain our original, but now diminishing
optimism.

I had a caravan parked just outside the railway station and efforts to adopt this as a
working office was not entirely successful! It was always difficult to keep it warm.
I had an oil heater which was always turned up high. This caused the windows to steam up
and when the door was opened, a gale force wind raced through the caravan.

My first visitor was my boss from Edinburgh (from S.N. Breweries) who solemnly handed me
a cardboard box containing pens, office papers, paper clips, rubber bands and a £20 float,
which he reminded me I had to correctly reconcile weekly and send details to him.

During the following 10-12 weeks, I interviewed dozens of would be employees, discarding
those who loved to ski, discovering very soon that they wanted to be on the hill instead of
coming to work! Every day, I was busy preparing work schedules and job descriptions for
chefs, waiters, waitresses, financial control staff, storemen and barmen.

My wife Inge travelled far and wide on her bike encouraging families to take in staff
members for £3 per week.

I always enjoyed working with staff who were happy and enthusiastic and felt very lucky
having such a wonderful team at Aviemore, meeting every challenge with a positive attitude.

P.M.A. – Positive Mental Attitude is not magic, but it works like magic.

Needless to say, the Aviemore Centre did open as planned on the

14th December 1966, but more on that later…………………….

.....................................................................................................................................................

** NEW ** Letter from Dugald 30th April 2007
16 December 1966 was the opening day of the Aviemore Centre and in spite of the high state
of preparedness which we all had achieved in the weeks leading up to the opening, we were all
very much aware of the formidable tasks facing us.
The Pinewood Restaurant had 250 seats and was open from 7.30am until 10.30pm and at peak
times we served between 2-3000 customers a day.
The chefs and kitchen staff were under the most pressure because they regularly had to prepare
500 meals for a formal banquet at 8pm until 10.30. We also did Royal Hunt Balls with
Princess Anne, as a teenager, from 10pm to 2am.
Due to the ever increasing demand for eating places, we decided to open an Austrian style
restaurant called the Das Stubel. It had 66 seats and served 300 meals every day.
Every day, we seemed to face new challenges and opportunities. On day one, we had to climb
up onto the fountains in the square, break the ice and fill dustbins with it to cool over 100 bottles
of champagne which were waiting in readiness for the opening cocktail party for 700 invited guests
at 3pm that day. We had to bring in 30 waitresses from an agency in Edinburgh to help with large
banqueting business. I remember once, just as delegates were about to leave the cocktail reception
area and make their way into the banqueting hall, we heard that the coach bringing the waitresses
from Edinburgh hadn't arrived. I asked the organiser if he could hold back his members for
15 minutes until we fixed "the problem in the kitchen" and offered them a complimentary drink on me.
Thankfully, within the next 10 minutes, the coach arrived. A sigh of relief all round!!
A new employee had infiltrated the existing staff in the Pinewood Restaurant and asked them to
strike for higher wages. I joined the meeting and said that I would return in 15 minutes and anyone
who wished to join in with the proposed strike should take of their uniforms and leave the Centre.
When I returned later, she was the only one who had taken off her uniform. A heart-stopping few
minutes for me because we were just about to serve lunch to hundreds of customers!
My days were full of variety. I remember one day, a very nice young girl from the
Das Stubel Restaurant came into my office. It was clear that she was extremely nervous and
eventually told me that she was pregnant and was frightened and didn't know what to do.
I assured her that she could stay in the staff hostel and continue working until she decided
otherwise and we offered her all the support she may need.
It's important to be a friend to someone who needs a friend.
Every Christmas day we invited widows and widowers, who found themselves on their own
for the first time at Christmas to join us for a complimentary Christmas lunch.
I was lucky to have a wonderful team around me and in particular, David Cameron, my first
deputy manager. He was a local young man who worked extremely hard and was a total optimist.
We had lots of fun together and laughed a lot when under extreme pressure. We all missed him
greatly when after two years he left to pursue his career in hotel. Incidentally, David had become
on of Scotland's top businessmen and we meet in Inverness for lunch on a regular basis.
My next deputy manager was Bob Pittwood. He was very popular with customers and staff alike.
He was a true professional.
On a nice sunny day and when occasion allowed us, we would slip off to Boat of Garten golf course.
Taking with us a half bottle of Rose wine and smoked salmon sandwiches. We both enjoyed the
peace and quiet amidst the lovely views looking across to the Cairngorm Mountains and watching
the fishermen on the River Spey. Everything was tranquil and we would look at each other and
agree that things just could not get any better than this. We felt as if it was our own magic place
and this special feeling always stayed with us during the busy days at the Centre.
To welcome the summer season, Derek Beightman from Cairdsport provided each of the
management team with a canoe and we raced each other down the River Spey from Kingussie
to Aviemore. A truly hilarious time was had by all.
We also had a management curling team and we played after 11pm when the paying customers
had gone home.
Sir Hugh Fraser and myself shared a common interest in flying and we often visited the local
gliding club. One windy day we didn't quite make it back to the landing strip and ended up in a
field of young trees.
Those of us who were married and had young children were especially privileged as our families
had full access to all of the Centres facilities, swimming pool, ice rink, cinema etc, etc. I know that
my own family still talk with great affection when recalling those heady days in Aviemore.
It all seems such a long time ago.
For all of us who were fortunate enough to have been involved and taken part in the early days
of the Aviemore Centre, we can all look back and consider ourselves to have been very lucky.
.......................................................................................................................................................



Listen to tributes to Dugald on his leaving the Centre c.1971
MP3 file - ("right click" on image - "save link as") 4mins (4Mb)

Dugald (far right), part of the original
Aviemore Centre management team circa 1967


Invitation to the 1966 grand opening


Dugald MacAngus being presented to HRH Princess Alexandra 1970

See the story of this event below............



A perfect banquet layout in the Centre for the FORD
corporation conference




Inside Das Stubel restaurant in the Centre circa 1968


Das Stubel again - different view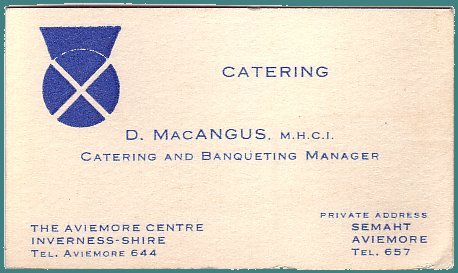 Business Card of Mr D.MacAngus


Below: Newspaper story of Dugald McAngus, whilst as General Manager at the Selfridge Hotel, London.
Dougald is sitting with Max Bygraves.